How to recycle used shoes?
How do you deal with the old shoes that you are no longer wearing? Throw away?Actually almost all the old shoes can be recycled or reused. There are many benefits to reuse and recycle used shoes. Also there are many recycling machines like used shoes baler are good help in whole recycling process.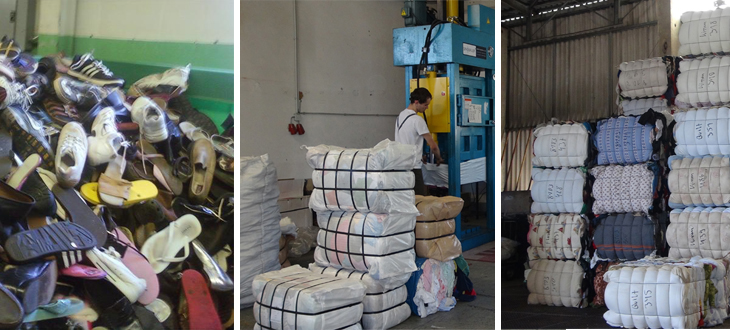 The benefit of used shoes recycling
Firstly, you can use the old shoes to make into a new product such as flowerpot for growing flowers so that can save your money of flowerpot and also become a decoration to your house;
Secondly, it can reduce the waste in landfills. If everyone throws away the old shoes, it will become garbage and part of them will go to landfills. Landfill space is very limited and expensive, and some will become the waste polluting the environment.
Thirdly, recycling old shoes can provide job opportunities to those disabled people and benefits charities. There are many charities around the world like in USA, Australia who are doing such kind of things. They collect second hand shoes and clothing from households, then use baling machine to press these old shoes and clothing into dense uniform bales (the workers are usually disabled people), then they sell the baled old shoes to poor districts or countries for people to reuse them.
Used shoes baler machine in old shoes recycling
In this regard, Sinobaler vertical lifting chamber baler is an ideal used shoes baler choice in this baling process. Lifting chamber baler can make wrapped and strapped bales of used shoes and the bales are loaded into truck and containers to be delivered to poor districts or countries. This baling press machine helps recycling facilities and used-shoes dealers to process efficiently and economically the huge volume of material that is handled, and greatly save the storage, transportation, loading and unloading costs.
Send your comments to SINOBALER if you are interested in used shoes recycling.
Other waste material recycling articles:
Which Plastics can be recycled? / Plastic types?
Which cardboard can be recycled? / What is the type of Cardboard?
How to recycle Plastic Bottle?
Banana Fiber Introduction and Banana Fiber Recycling