Our team consists of experienced waste recycling engineers in hydraulic and mechanical fields who have been pacing with advanced technologies and focus on the designing and manufacturing of the world-class baling machines. We think outside of the box and always try to provide each customer with optimal baling solutions for his needs. We deliver what we promise on time.
                                                         Waste Recycling Competent workers: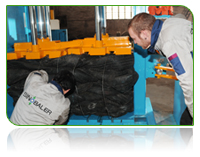 In our workshops, only workers with vocational qualification certificates can take charge of special work like welding, machining and painting. They are regularly trained and tested for the skills required by the waste recycling work they are entitled. Safety operation is our main concern and we do everything to protect our workers from work accidents. They are required to equip themselves with essential protection devices during the whole waste recycling process.
Facilities
Our complete facilities ensure that the whole production process could be accomplished in-house and meet the high manufacturing standard.
Below is a list of our main machineries
Planer milling machines
Metal cutting machines
Plate-cutting machines
Plate-Bending machines
Semi-automatic horizontal band sawing machines
Radial drills
Bench drilling machines
Welding machines