Grey Fabric Baling Press Machine
Greige is also known as greige cloth, greige fabric and grey fabric. It is an unfinished fabric taken directly from woven or knitting machine. It has not been bleached or dyed, and can be used for upholstery, window treatment, clothes and more.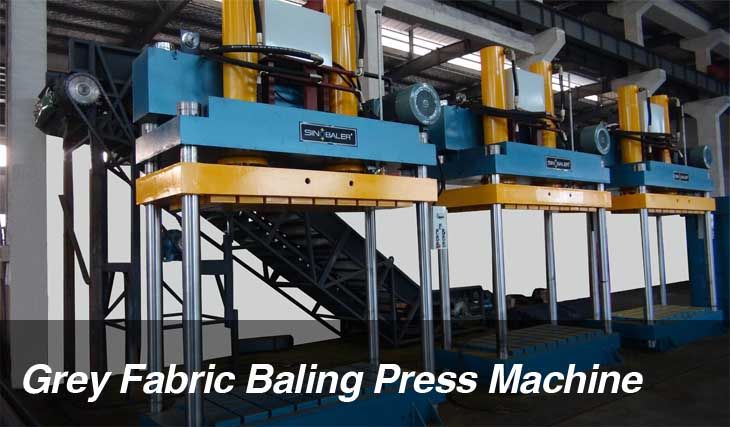 For economical and efficient storage and transportation, the greige/grey fabric should be pressed and packed properly. Our fabric hydraulic bale press is specially designed for packing greige fabric into bales.
Grey fabric baling press machine in SINOBALER
Considering that grey fabric is usually folded or rolled up which is heavy and bulky, traditional vertical balers with front facing loading door is not suitable because loading would be a very tiring process as you need to lift the fabrics up. The fabric baler produced by SINOBALER for this application is called Open Type Baler – this baling press machine is open on all four sides, no loading door, no compressing chamber. In this way, operators can easily load greige cloth on the bottom platform and then press, wrap and strap.
The grey fabric baling press machine shown in photo is a very heavy duty type with a nominal compressing force of 200 tons, a compressing chamber size of 1900 x 800 x 1500 mm and a cross strapping platform. It is customized made based on client's requirements, suiting client's specific baling need for gray fabric.
SINOBALER offers optimal baling solution for you. Our team will analyze your specific baling needs and present the most suitable proposal. Contact us for your customized baling solution.
Quick links: